Mrs. Frank Ortezn-Abbott (Rebekah Mancino) (1984 – )
click here to view Rebekah's personal website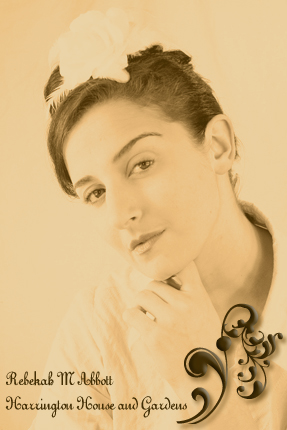 Rebekah was born and raised in London England.
At a young age, Mrs. Ortzen-Abbott was preoccupied in the pursuit of the arts in general, and music in particular, highlighted with scholarships to study at the exclusive Purcell School and the Royal Academy of Music (part of the University of London).
She majored on the trumpet with supporting studies of the piano, flute and basoon.
Rebekah has performed in concerts for HRH The Prince of Wales
at Windsor Castle, Buckingham Palace, and St John Smith Square in London; and under the leadership of conductors such as Sir Simon Rattle and Sir Roger Norrington.
Key recital repertoire has included piano solos in Gershwin's 'Rhapsody in Blue' and Shostakovich's 'Piano Concerto No. 2′.
On the trumpet, she has played in solo concerts with the likes of Kevin Bowyer (acclaimed organist), and Derek Watkins (world-renouned lead trumpet player).
Rebekah studied trumpet with David Mason, James Watson, and Robert Farley; piano with Tessa Nicholson; and flute with Anna Pope.
After university, Rebekah privately taught practical and theoretical music, while enjoying a career in Investment Banking. She moved into a position of Personal Assistant to an Entrepeneur/Property Developper/Economist from whom she was offered the position of Director at age 21, but declined this in favor of relocating to her parent's native country, the USA.
After marrying Frank Ortzen-Abbott on December 31, 2005, the couple moved to Michigan in the United States of America in 2006.
They settled in the State of Ohio later that year.
Mrs. Ortzen-Abbott 's interests are very varied:
She enjoys architecture, calligraphy, origami, photography, fashion design, sewing, international cuisines, web design, and general travel.
In the summer of 2008, Mr. and Mrs. Ortzen-Abbott purchased 272 Washington St NW, which they named `Harrington House and Gardens`.
The house was redecorated to be in keeping with the rooms and styles of a Historic Italianate Victorian.
Mrs. Ortzen-Abbott keeps her house in order with help from an alter-ego/Homemaking journal which she named Hilda Harrington.
View more at http://hilda.hhandg.com/